🤝 10M more stock visuals added to the visuals library! Introducing partnership with Getty!
Pictory has tied up with Getty to get its Premium users a library of 10M more stock visuals!

So now with Pictory, you can access the following libraries - Storyblocks, Getty, Pixabay and Unsplash.
✅ Updated AI Highlighter

We improved our AI behind the Auto Highlight feature on Edit Videos using Text. Now, AI can extract key highlights from your video, more accurately.

Happy highlighting!

✅
Multi-step authentication
To ensure safety of our users' data and to keep any fraudulent activity at bay, we have re-introduced the email verification step

✅
Fixed multiple audio and voice over bugs
Downloading videos to gather feedback? Share Previews instead. It's quick and easy.
✅
New Templates and fonts
Added some new and beautiful styles and templates for you to be able to create better looking videos.
24 new and stylish fonts have been added.
A ton of app crash issues were squashed so you can have a smooth and seamless experience.
✅
Visual Zoom and Pan can be applied to all scenes
In Edit Videos Using Text, we have now added the ability to apply Visual zoom and pan settings to all scenes.

1
.
Better Royalty-Free Media Search:
We've implemented a MASSIVE upgrade to our AI. This means video and image suggestions will now match your script far more accurately -
log in to and give it a try now
2. Turbo-Charged Previews:
Hit 'Preview' and prepare to be amazed. Previews now appear in just seconds saving you a ton of time.
3.
3x Faster Transcriptions:
No more hanging around waiting for transcriptions when editing videos. We've sped things up three-fold -
Nice
4. Faster Video Generation:

We've added a bunch of powerful new servers so your videos now render WAY faster than before - Awesome!
1. Teams Plan!

Invite up to 20 colleagues to your dedicated teams workspace, and collaborate with them on projects!

There is a FREE TRIAL for Teams Plan, so you can try before you buy!


2.
Squashed numerous bugs within our favouriting songs and voice-over experience
3. We made video generation 3x faster!
🚀
4. Improved the trim video experience - now you have the ability to update scene duration and b-roll
1. Control voice-over volume
You can now control voice over volume - both AI voices and your own recorded voice
2. Download MP3 file from a project

Click on download and we'll extract all assets for you - video, text, mp3 (audio file)

3. Scroll bar under the scene strip

Time to bid goodbye to the hassle of finding specific scenes by using those pesky arrow buttons on the scene strip. We've added a scroll bar so finding scenes and navigating across your project is 10x simpler. Super-slick!
4. Aspect ratio on transcription step

You can now change the aspect ratio and download clips directly from the Transcription Step. No more back and forth between the Storyboard and Transcription steps saving you a ton of time. Yay!

We've also made login pages look more beautiful, because we can :)
1. "Right click has been enabled on Storyboard and Script Editor!
We have finally brought in Right click on the Storyboard.
Select an object > Right click on it > View options to copy, paste, delete, etc.
We will be bringing in the concept of layers really soon!
2. FIXED - Random session expiry issue
We know you were tired of being logged out randomly. We have fixed that issue for you.
3. FIXED - Missing text in Preview
Sometimes the text would disappear while previewing the video. We diagnosed it and fixed it for good.
4. FIXED - Slowness in Video Editing scenario
A lot of you all brought to our attention that video editing had become incredibly slow. We fixed that for you, and it's working as it should
5. FIXED - Forgot Password
Forgot password was broken. We've fixed that, too
6. FIXED - AI wasn't picking up visuals
A lot of you all would have seen the dialog box that said - "We could not fetch visuals for you". This happened because of lack of resources during the heavy influx of new users. We increased our server capacities to accommodate all of you!"
Amazing new feature updates inside.
Pictory's Even More Awesome (Log In And See!)
We're excited to announce a bunch of updates to your favorite video generation platform.
1. More Voices (Best In The Business)
We've added a ton of the most advanced and realistic new voices to make your videos sound amazing.
You can now choose from 34 voices if you're on our Standard plan and a whopping 60 if your're on Premium!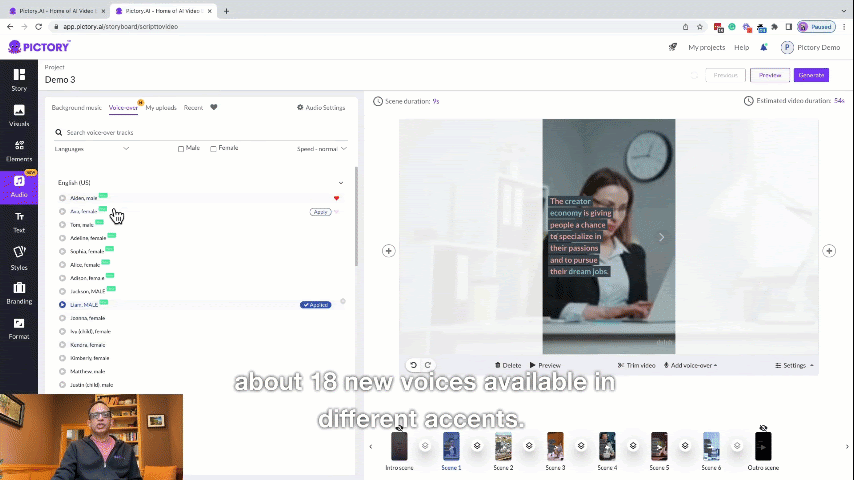 2. Fantastic Fonts Upgrade (More, Bigger and BETTER)
Make your videos look drop-dead GORGEOUS with our new fonts.

Search by font name and amp them up to 150px in size!

(Coming soon, the ability to upload your own fonts, watch this space)
3. Script Editor Auto-Save (Yes! Finally!)
No more lost work. We automatically save changes as you edit your script.
Good for your creativity .... and your blood pressure :)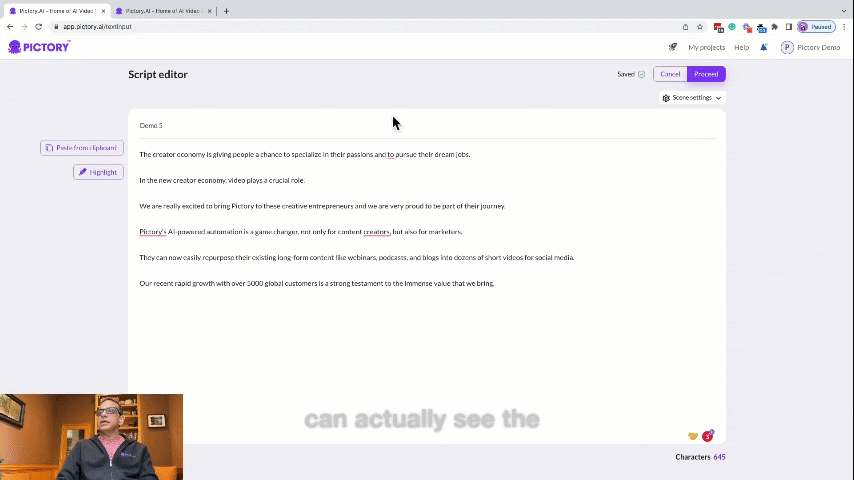 If you have any questions and comments, we'd love to hear from you, simply email
support@pictory.ai
In our continuous endeavor to make your video creation workflow simpler and better, we've added a few cool new enhancements this week.
1. Keyboard shortcuts (Copy-Paste of Elements made simple!)

You can now use keyboard shortcuts for Copying and Pasting Elements and Text boxes on the Storyboard

Copy: ctrl+c (windows); cmd+c (mac)

Paste: ctrl+v (windows); cmd+v (mac)

2. Scene Transitions in 'Edit your existing recorded videos' use case
After you upload and transcribe a recorded video, click on "Customize Video" or "Customize Highlight Video" on Transcription Step > Go to storyboard to apply Transitions.

3. New and improved experience while buying Pictory subscription

Based on the feedback from current users we have enhanced the 'Order summary' page - The key benefits on each plan and more detailed payment information.
As always we have also fixed a few bugs especially related to scene transitions. We would love to hear your feedback, comments at
support@pictory.ai
. Stay tuned for a few BIG announcements!
Brand New 2023 Features Available NOW (Log In And See!)
We've added a whole bunch of cool new features to help kickstart your 2023 video journey.
Buckle up, this is a BIG one!

1. Add Stickers, Emojis, GIFs & CTAs (Make Your Videos Really Pop)
Add sizzle to your videos and increase engagement with cool new elements including stickers, emojis, GIfs.

You can even add Call To Actions (CTAs) to skyrocket your sales.
All this with just a few clicks!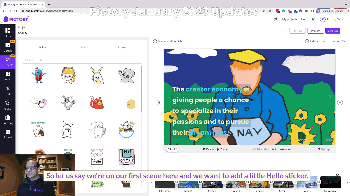 2. Unsplash Now Included (TONS More Free Images)
Introducing EVEN MORE image choices.

Add stunning images from Unsplash, right from within Pictory.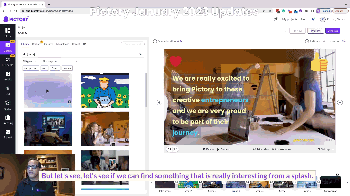 3. Share Multiple Video Highlights In A Single Go (Save Time & Hassle)
Showcase your work quickly and easily by sharing multiple video highlights.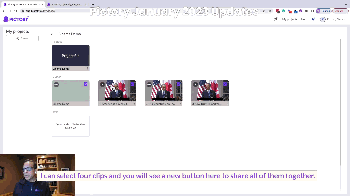 We've also added a scroll option on the main vertical storyboard menu and squashed a bunch of bugs.
If you have any questions and comments, we'd love to hear from you, simply email
support@pictory.ai
Best wishes from all the Pictory team.
Awesome December Updates Available NOW!
Christmas has come early for Pictory users as we've added some cool new features to your favourite video creation platform.
1. Share Your Videos (From Inside Pictory)
Save time by sharing your videos with clients, colleagues and friends without having to download them.
Pictory's new sharing function means you can share your videos with just a few clicks.
Your audience can view your videos on their desktops or mobiles!
2. Move Your Full-Width Text (Much Requested!)
Don't like where your full-width text is? Now you can MOVE it!
Unleash your creativity with Pictory's new text positioning function.
3. New Guardrails (No More Sloppy Text)
We've introduced a new guardrail function so you can centre your text with pinpoint precision.

Just one more function to make your videos look even more professional.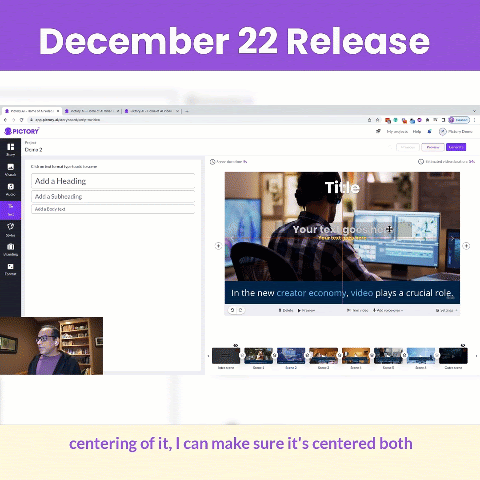 As always, we've squashed a bunch of bugs to make your Pictory experience the smoothest ever.
November 18, 2022

Three Awesome Updates Available NOW!

We're excited to announce three major updates to your favorite video creation platform.
1. Multiple Text Boxes (Frequently Requested)

Make your videos really stand out by adding eye-catching Headings, Subheadings and Freeform text.
Change fonts, colors and positions to create the perfect look.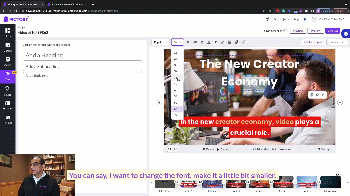 2. Multi-Speaker Identification (Mind Blowing!)
Pictory AUTOMATICALLY identifies who's speaking during video transcription.
Add speaker names and download your transcript to create the perfect interview-style blog post.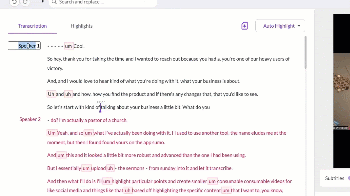 3. Improved Video Transcription Editing (Massive Time-Saver)
No more fiddling around editing individual words, now you can edit whole sentences at once saving you a ton of valuable time.
Simply right click your mouse to edit, merge, split add to highlights and generate your video.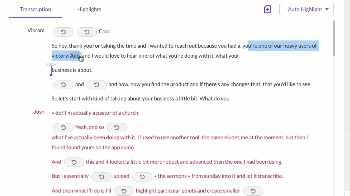 Plus we've squashed a bunch of bugs including audio issues in intro and outro clips to make your Pictory experience the smoothest yet.